Five Spooky Sites in Dublin 
Down through the centuries, Irish people have thrilled to the scary stories told by fire light of witches, ghosts and banshees that howl outside your door and Dubliners have enjoyed those stories as much as rural folk. Ireland's capital, with a long and bloody history to choose from, has got plenty of its own spooky tales to tell so we thought we'd pick out five places where spectral beings are said to roam in Dublin. Shack up in the security of a comfortable bed at a budget hotel like Travelodge Dublin Hotels and prepare to shiver to the sound of 5 haunted spots to thrill you in Dublin.
 1: Dublin Castle
While Dublin Castle is one of the most popular visitor attractions in the city, it also has its scary side. The base of the British administration for over 800 years, Dublin Castle was actually built on a cemetery, perhaps a portent of the thousands of future executions and deaths associated with the site. When putative rebels and real invaders were captured and executed, their heads were put on spikes on the castle walls as an example to others. The rest of their bodies were despatched to the deep foundations of the castle where it is said their decapitated bodies roam, looking for their lost heads!
 2: The Hellfire Club
Sometimes when you visit a place, you can sense a strange, unfriendly energy and you get that in spades when you travel 20 minutes from central Dublin to the site of the Hellfire Club in the Dublin Mountains. The drinking club, where members dressed up as Beelzebub himself, imbibed copious amounts of whiskey and butter from a bubbling cauldron and were said to have eaten a serving wench bit by bit was held in a remote hunting lodge. Founded in 1735 by the first Earl of Rosse, the Grand Master of the Irish Freemasons, the Hellfire Club quickly gained a demonic reputation where members were reputed to play cards with a certain cloven-hoofed player and engage in devilish sex and sacrifices. When you stand in the dark and gloomy surroundings of the burnt-out lodge, you may well believe the rumours.
3: Saint Michan's Church
It's easy when you're in the interior of Saint Michan's Anglican church in Dublin and hearing about its connections to Handel's Messiah to be rather blasé about ghostly activity but when you step down into the crypt below you may have to reconsider. The dark and cob-webbed vaults beneath Saint Michan's contain 800-year-old bodies that have been spookily preserved by the unique dry air within the chamber. These so-called Michan's Mummies gaze out from open coffins while other stacked and cracked boxes have bones protruding as if the inhabitants have been trying desperately to escape. All you need to complete the scary feelings is to be told that whispered voices are constantly heard and spectral icy fingers are consistently seen by visitors and guides alike.
4: Kilmainham Gaol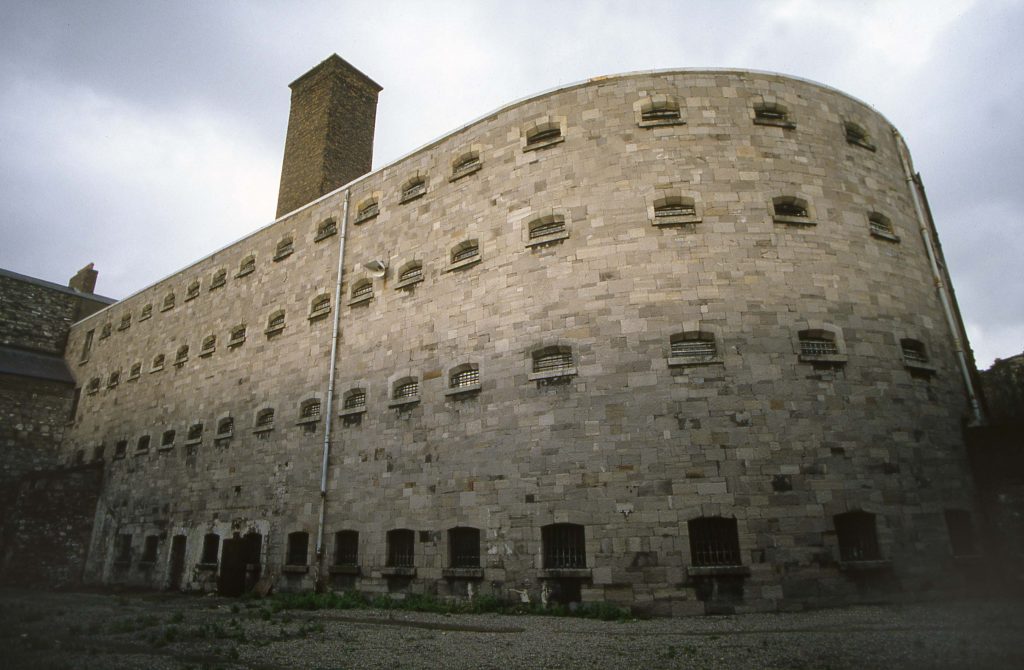 In the centenary of the 1916 Rising in Dublin, it's not surprising that Kilmainham Gaol continues to be one of Dublin's top visitor attractions. Unfortunately, living breathing visitors isn't the only thing that the Victorian jail attracts. Execution spot for many of the leaders of the 1916 rebellion, Kilmainham is said to have former inmates still wandering the echoingly-empty halls with lights turned on and off without explanation, spectral winds whining down the corridors and the sound of disembodied footsteps haunting the prison chapel, reputed to be the most haunted part of Kilmainham Gaol.
5: The Grave of Captain Boyd
Our last ghastly ghostly apparition is actually an animal. In the graveyard of Dublin's St. Patrick's Cathedral, lies the grave of Captain John Boyd, a sea captain and a Dublin hero for his efforts to rescue ships and their crews. Captain Boyd tried to save more than 135 ships and their crews, damaged by a huge storm in 1861 off the Dublin coast by tying himself to his men and going out to sea in an attempt to save lives. Unfortunately, he died in that attempt but for his efforts, Dubliners turned out in what was one of the largest funerals ever seen in the city. His black Newfoundland dog, who had accompanied Captain Boyd everywhere in life, starved to death as his master's grave rather than ever leave his side and it is his ghost which can often be seen either sitting under the marble statue of Boyd in the Cathedral or outside on Captain Boyd's grave.