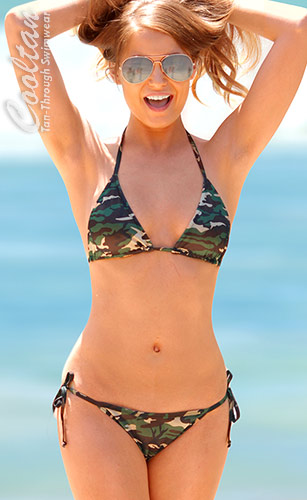 Everyone wants that amazing, all-natural, gorgeous tan that will make you glow from the inside out. But getting a tan that amazing takes work, and can actually be a lot harder than people think. Tanning lotions are streaky and sticky, swimsuits give you tan lines, and tanning beds and spray tans are expensive. So what are we to do to get that great tan?! Thankfully CoolTanⓇ is here to change the tanning game and make it easier than ever before to get an amazing tan right through your swimsuit or shirt.
CoolTan's line of TanThrough swimwear and shirts are absolutely incredible, they make getting a great tan as easy as lazing around the pool or walking along the beach. The secret to their TanThrough abilities is the specially formulated Microsol V fabric. The fabric is knitted to create millions of tiny pores to filter in approximately half of the sun's rays, giving you a natural tan while also functioning like a medium level sunscreen. The lightweight, porous fabric is also great at wicking moisture and even dries up to 3x faster than normal fabric. This makes it a great option to bring on vacation or to the pool because you don't have to worry about waiting ages for your soaking wet swimsuit to dry and getting moldy in your towel on the way home.
All of CoolTan's swimsuits are also incredibly long lasting thanks to the durable stitching and the ability to machine wash the suits. Plus CoolTan has a variety of different sizes, styles, and patterns to choose from to guarantee you will find the perfect one for you. From 1 pieces and monokinis to halter and string bikinis we're sure you'll find your new favorite style, all while getting the most amazing tan ever.
We highly recommend checking out CoolTan's unique line of TanThrough swimsuits and shirts to see just how easy it can be to get an incredible tan, no more tan lines required. For the most comfortable, quick-drying, and tanning powers CoolTan has you covered.