Everything evolves but, ironically, the most visible example of the phenomenon has nothing to do with nature and Charles Darwin at all. The race to create the perfect mobile phone or gaming system, a competition that produces more elaborate results with each passing year, has resulted in huge leaps in hardware power in just a few decades. Already, we've got the sum of almost everything predicted by Back to the Future and Star Trek.
That sort of rapid change isn't the sole domain of the Apples and Samsungs of this world though; the casino industry has held innovation in high regard for some time. Recently, experiences utilizing virtual reality headsets like the Oculus Rift have begun to appear, transporting the wearer from their sofa to a digital poker or roulette game. Similarly, slot machine manufacturers have been forced into a bout of self-reflection as the audience for casinos changes.
Liberty Bell
Slot machines are a surprisingly old game. The first one, the Liberty Bell, created in 1899 by Charles Fey, was a lever-cranked metal box that paid out a jackpot of 50¢ if the player managed to line up three "bell" decals from a range of five possible icons. Slots were much more likely to give out food prizes in the early 20th century though, with the famous BAR symbol coming from the logo of a chewing gum company associated with the game.
Source: Wikimedia Commons.
Strangely, despite the fact that electricity had been a viable energy source for exactly one hundred years by the time the Liberty Bell made its debut in San Francisco, slot machines didn't acquire anything approaching their modern, digital form until the 1960s when Bally's Money Honey game introduced automatic payouts. The 70s melded the classic cabinets with the first electronic displays and the video slot was born.
The Wonder Woman Slot
There's something a little anachronistic about the presence of slots on the casino floor, a nearly unchanging thing in an increasingly high-tech industry. Of course, that's just physical machines; online, slots have evolved in all kinds of strange and wonderful ways, adding bonus rounds, winlines, and huge jackpots. However, the biggest benefit of slots' digital facelift is the vast number of different games out there.
For example, gaming company Fabulous Bingo has more than 120 slots available to play on its website, including games branded with pop culture themes like Wonder Woman, Casper, Monopoly, and Titanic. Support for mobile play means that it's entirely possible to play Chickeno in the bath or Fluffy Favourites on the bus. But with seemingly all bases covered as far as slots evolution is concerned, where does the game go from here?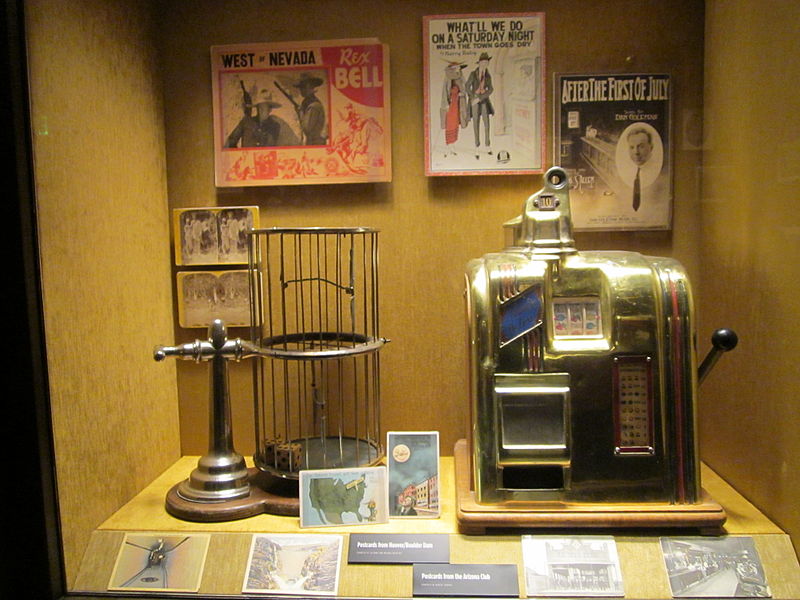 Source: Wikimedia Commons.
The Millennial Influence
As mentioned, casinos are undergoing something of a renaissance, driven by a need to appeal to a younger demographic, the much-maligned millennials or "Gen Y". As a group used to more skill-based, social experiences, a trait borne from a life lived on social media and time spent in the virtual trenches of Battlefield and Call of Duty, luck-based gameplay offered by slots isn't exactly compelling to them.
Arcade-style slots are the inevitable next step for the game. For example, a shooter called Danger Arena rewards players for defeating robots, with payouts determined by their prowess as a gunslinger. Pharaoh's Secret Temple taps into millennials' love of match-three mobile games while Nothin' but Net is a basketball simulator. All three titles are destined for the casino floor, potentially changing venues into something closer to the classic video game arcade.
Source: Wikimedia Commons.
Danger Arena
However, these new arcade-style games aren't so much evolution as reimagining. While Danger Arena retains a slot-based mechanic as a mini-game, there's not much of the classic experience in a basketball simulator other than elements of random number generation behind the scenes. The same situation exists online, with games like Bonus Bowling, Jackpot Darts, and Penalty Shootout taking up an increasing amount of website real estate.
Slots won't disappear completely – though the number of machines is down, to the sum of a 19% loss since 2005 on the Las Vegas Strip, Nevada still gets 61% of its gaming revenue from slots – but there's no ignoring the clamouring of bored millennials, especially given that they are now the largest consumer group and one of the more powerful as far as wealth is concerned. Casinos may be facing one of their most taxing makeovers of recent decades.