This year has seen some exciting trends hit the market in the outdoor furniture segment. Five of these in particular stand out that have really been driving the category this year. Let's discuss each of these outdoor furniture trends in a little more detail.
Sleek, Simple & Clean

The sleek and sophisticated contemporary look with clean elegant lines has seen the largest growth for outdoor furniture in twenty-sixteen. The urban metallic finishes seamlessly integrate with existing home designs and therefore provide a great opportunity to create an outdoor space as an extension to the home as opposed to a segregated social hub. This flexibility has major appeal to homeowners as a result.
Today's contemporary style furniture is evolving into much more than the cold minimalistic look that so many associate with this term. What many don't understand is that contemporary doesn't mean modern, and is instead the reflection of modern lifestyle needs and demands. This then shifts the focus to how form and function can solve these evolving needs by utilizing space properly rather than the focus being on the objects overall design.
A Fiery Ambience
One of the biggest features in the outdoor furniture category is the fire place. Some of the designs that have come out look simply stunning, and naturally draw people together as a social hot spot (no pun intended!) Putting aside the overall visual impact and practicality a fire place offers, it truly extends the enjoyment of outdoor entertaining throughout all seasons – therefore not limiting your options during the course of the year.
Mixed Material Designs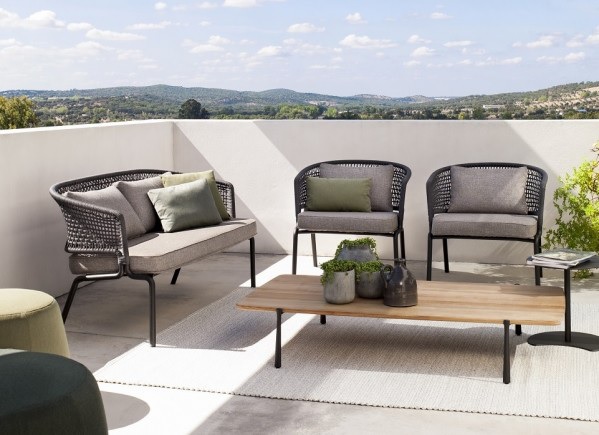 The ability to easily customize is an appealing concept to many, which is why the mixed material design approach is being taken by many outdoor furniture manufacturers. The use of raw materials combined with certain production techniques and processes used to simulate them, contemporary outdoor furniture manufacturers have capitalised on this trend to create more interesting combinations of materials that in turn deliver unique and fully customizable outdoor collections.
Ordering Furniture
Sometimes it's worth looking around for deals on furniture as many big stores like Hayneedle & Ikea have some very affordable offers.