The truth is, we rarely focus any attention on the roof of our homes until we are faced with an emergency. According to the Old Farmer's Almanac, March 20th marks the start of the spring equinox in the Northern Hemisphere, which means that we have officially entered the spring season for 2017. Why is this significant? Constant and significant rain will inevitably compromise the integrity of your roofing system, and we have officially entered the season of spring showers. There is definitely no time like the present to inspect your roof.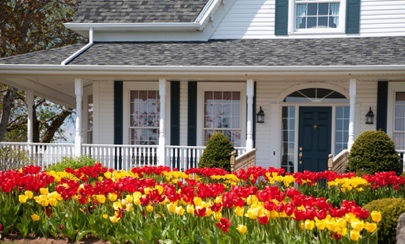 You don't need to be a professional to notice when something has gone awry. Some of the telltale signs of a roofing problem could be the patches of discoloration on your ceilings, which can denote water damage. Another telltale sign of roof damage can be seen by physically going on top of your roof to inspect the shingles, but depending on how easy it is to access your roof, you may want to leave this to the professionals. The most commonly used roofing materials in North America are asphalt shingles; these types of shingles use asphalt and an overlapping pattern to prevent water from entering your home. If these shingles appear to be cracked, brittle, or if some shingles are missing, this is indicative of a roof problem. If you have an asphalt shingle roof, the shingles are covered in granules, which will ultimately make their way into your gutters as they begin to separate from the shingles. It's important to inspect your gutters for any signs of this occurrence.

Unlike other "DIY" home projects, roofing is something that should be left to professionals. If, after your own visual inspection, you notice a roofing problem, you should contact a professional roofing company in your area. As with any other home improvement business, you should exercise due diligence: you should inquire about warranties, materials, and disposal. Your home is most likely your largest investment, and great care should be taken when it comes to the company that you hire for the job; make sure that the company is licensed, bonded, and insured. This doesn't necessarily mean that you have to go with a large company, there are plenty of smaller, and capable, quality roofers in the GTA that do excellent work. Professional roofers, such as those found at https://www.professionalroofers.com/, pay close attention to detail, stand behind their work and you can expect a level of personal attention that you don't always receive with larger companies. So although the smaller company may not be the first on your radar, they are certainly worth considering — not only will you most likely save money, but the quality of the work is often commensurate with that of larger companies.
As we move further into the spring season, we can expect more rain than usual, and although our roofs are designed to withstand rain, sometimes problems will inevitably occur. Sometimes these problems can constitute an emergency, so inquire about emergency services, and establish whether or not there is an additional charge for an emergency call. There are so many things to consider, but you have to accept the fact that your roof and the foundation of your home are the most important parts of the structure. In summary: inspect your ceilings, your shingles, and your gutters. If something doesn't seem right, contact quality roofers in the GTA and get the job done right.